Having Responded to IRS Letter 226J to Prove ACA Compliance, Now Meet IRS Letter 227
Your organization has received a Letter 226J tax notice because the IRS says it did not comply with the Affordable Care Act (ACA) on the basis of its ACA information filing with the IRS for the 2015 tax year. Your organization has taken the appropriate steps to provide a response to the IRS in hopes of reducing or eliminating the assessed employee shared responsibility payment (ESRP) that was proposed in the notice.
Now meet IRS Letter 227, a series of five different letters that the IRS is using to acknowledge responses to Letter 226J. These different versions of Letter 227 describe further actions that an organization may need to take to address its proposed ESRP. They are listed here in their order of preference:
Letter 227K: This is an excellent letter to receive. It means your case has been resolved to your organization's satisfaction. Essentially, Letter 227K acknowledges that the information in the Letter 226J response was accepted and the IRS inquiry has closed. Your organization does not owe an ESRP.
Letter 227L: While not as thrilling as receiving Letter 227L, receiving this version of Letter 227 is very positive. It is sent when the IRS agrees with the information your organization provided in response to Letter 226J making the case for a reduced ESRP. The organization still needs to make a payment, but for an amount the organization cannot defend, but smaller than the originally proposed amount.
Letter 227M: It's not so great to receive a version of Letter 227M. That's the version in which the IRS disagrees with your organization's Letter 226J response and simply reiterates its original proposed penalty.
There are still two other versions of Letter 227. For example, the IRS may partially disagree with the recalculated ESRP your organization provided and offers a revised, and hopefully lower, ESRP. The IRS may seek clarification of the information provided by your organization, which may necessitate providing supporting documentation before the IRS is willing to reconsider its original proposed penalty.
If after reviewing Letter 227M, your organization still disagrees with the IRS, consider requesting a pre-assessment conference with the IRS Office of Appeals. You can do this by following the instructions for requesting a conference provided in Letter 227 and in Publication 5, Your Appeal Rights and How To Prepare a Protest if You Don't Agree.
Request the conference in writing by the response date shown on Letter 227. This usually will be 30 days from the date of the letter.
It's important that your organization respond in a timely fashion to both IRS notices. Not responding to either Letter 226J or Letter 227 will prompt the IRS to formally assess the amount of the proposed ESRP and issue your organization a notice and demand for payment, Notice CP 226J.
And that's an IRS notice you do not want to get to know.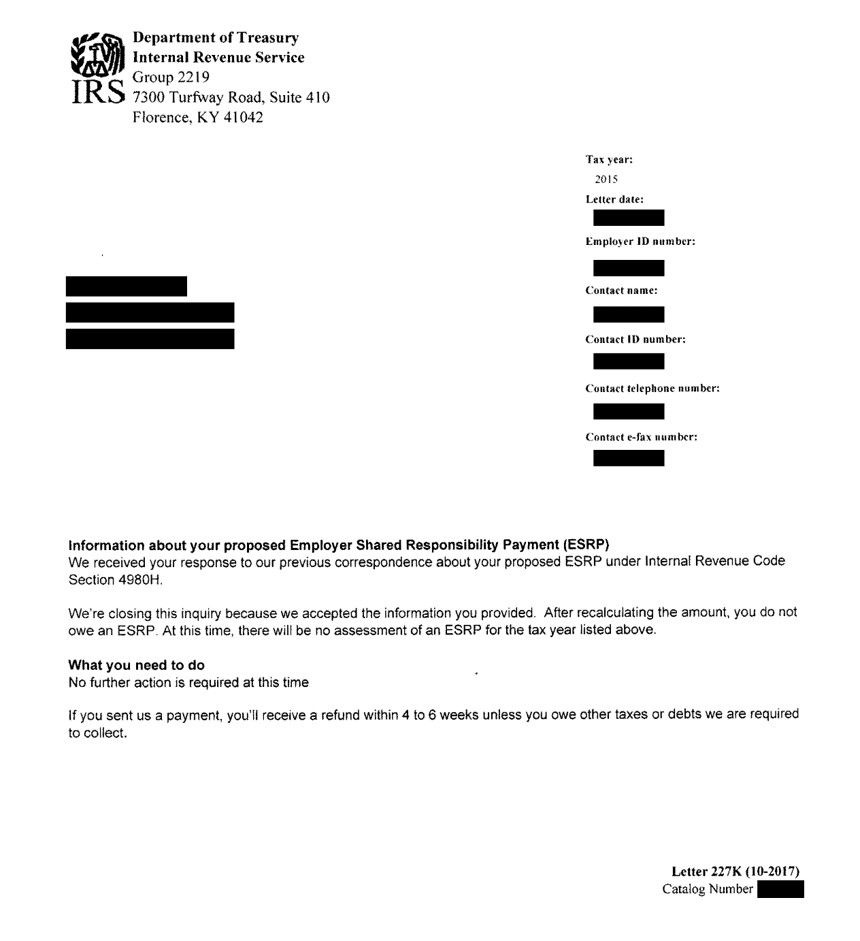 To learn more about ACA compliance in 2018, click here.
For ACA reporting in 2019, organizations should review this link for important dates and requirements.

For any questions or a consultation on the ACA or IRS Letter 226J, contact Gregg Kasubuchi of First Capitol Consulting at (213) 355-5108 or at gkasubuchi@fcci.us.com.
Summary
Article Name
Having Responded to IRS Letter 226J to Prove ACA Compliance, Now Meet IRS Letter 227
Description
If an organization has received and responded to IRS Letter 226J, it will soon become familiar with IRS Letter 227. This is the IRS's response that tells your organization if the case made to eliminate or reduce its assessed ACA penalty has been accepted or not. Letter 227K is great. Letter 227L is good. Letter 227M is not so good. And don't even talk about Notice CP 220J.
Author
Publisher Name
Publisher Logo

Short URL of this page: https://acatimes.com/iir